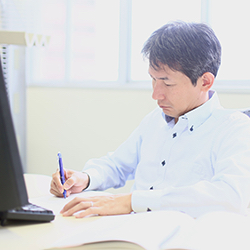 Artificial Intelligence
Equipment control
Communications
Image processing
Machinery
Materials
M.S. in Engineering, Nagoya University
Qualified as a patent attorney (2000)
Mr. Iwakami entered the Graduate School with the highest score and studied solid state physics.
After completing the graduate school, he started working for a domestic patent firm and then incorporated Knowledge Partners in 2007.
He is in charge of domestic and foreign patent procedures in the fields of information processing, measuring instruments, machinery, etc.
He specializes in patent prosecution for inventions that utilize advanced physics and mathematics.
He gained the trust of a major client for the latest technology such as AI.
Mr. Iwakami is ranked among the top 5% of the over 200 people evaluated in the patent engineer evaluations of the major domestic electronics manufacturers, and is typically nominated to write on the most important matters.
He also has experience with trial decision cancellation litigation cases, as an instructor, and with design and trademark work.
His hobbies are reading and programming.
Nagoya office member